AUSTRIAN WINE WEEK – SINGAPORE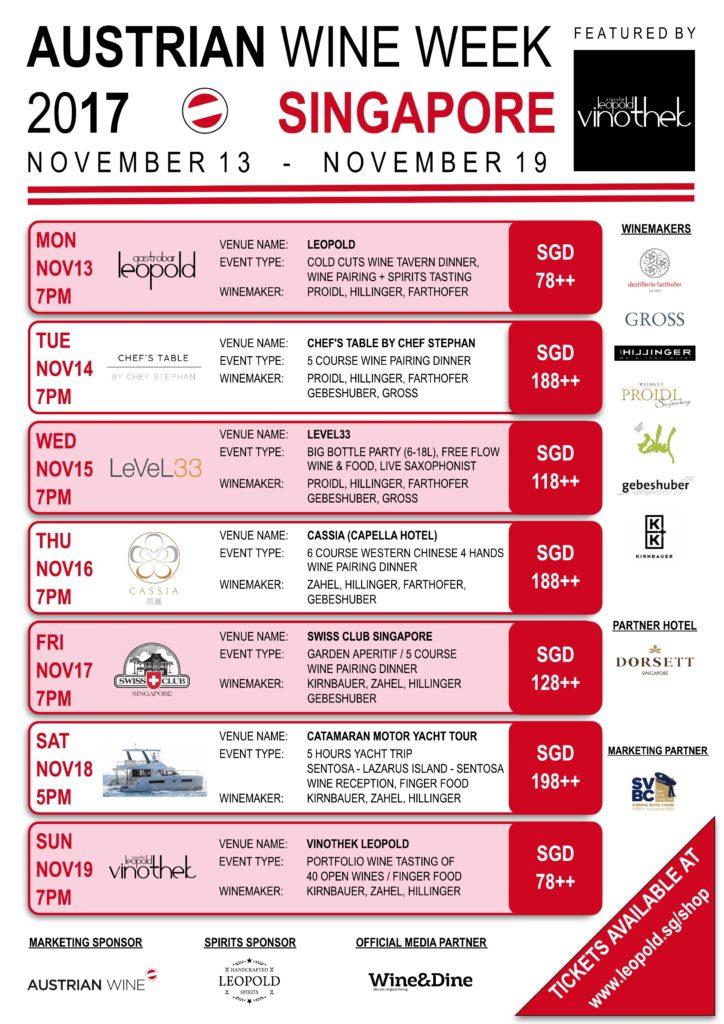 [interactive_banner_2]

the AUSTRIAN WINE WEEK 2017 – SINGAPORE was held in november with a total of 6 winemakers and 1 distiller at 7 different venues all over singapore! the offer included a fine dining western – chinese 4 hands dinner at the CHEF'S TABLE restaurant at CAPELLA HOTEL sentosa, a five course surprise menu at CHEF'S TABLE BY CHEF STEPHAN, a big bottle free flow party with a live saxophone player and a 18 litre bottle at LEVEL33, a traditional austrian heurigen wine tavern dinner pairing at LEOPOLD, a unique 5 course dinner pairing with a garden aperitif at SWISS CLUB, a wine portfolio tasting of more then 40 wines at VINOTHEK LEOPOLD and an exclusive CATAMARAN MOTOR YACHT tour with wine tasting and finger food from one 15 marina sentosa to lazarus island.
2017 wine makers:
winery gebeshuber (johannes gebeshuber)
winery zahel (alexander zahel)
winery proidl (patrick proidl)
winery gross (johannes gross)
winery hillinger (michael höffken)
winery kirnbauer (markus kirnbauer)
distillery farthofer (josef farthofer)
2017 venues:
leopold gastrobar
chef's table by chef stephan
level33
cassia (capella hotel)
swiss club singapore
motor catamaran yacht tour sentosa
vinothek leopold

"vinothek leopold", "leopold gastrobar" and "leopold spirits" owner klaus leopold founded AUSTRIAN WINE WEEK – SINGAPORE the first time in 2016.
five austrian top wine makers and one destillery from austria made their way to singapore between the 14th and 20th november 2016 to represent their wines.
the wine makers did host together with a total of seven venues and importer vinothek leopold's owner klaus leopold.
there was a choice between standing wine tastings, a casual wine dinner, wine tastings on the 57th floor with view over the city as well as wine reception on a catamaran yacht with a 5 hours trip to lazarus island – there was definitely something for every wine lover over 7 days with 7 producers at 7 venues.
2016 wine makers:
winery spaetrot gebeshuber
winery zahel
winery poeckl
winery gross
winery hillinger
distillery farthofer
2016 venues:
leopold gastrobar
ce la vi
level33
wine universe
swiss club singapore
chef's table by chef stephan
infinity sails (catamaran yacht)